Why are real estate and condominium developers always separating living spaces from working spaces?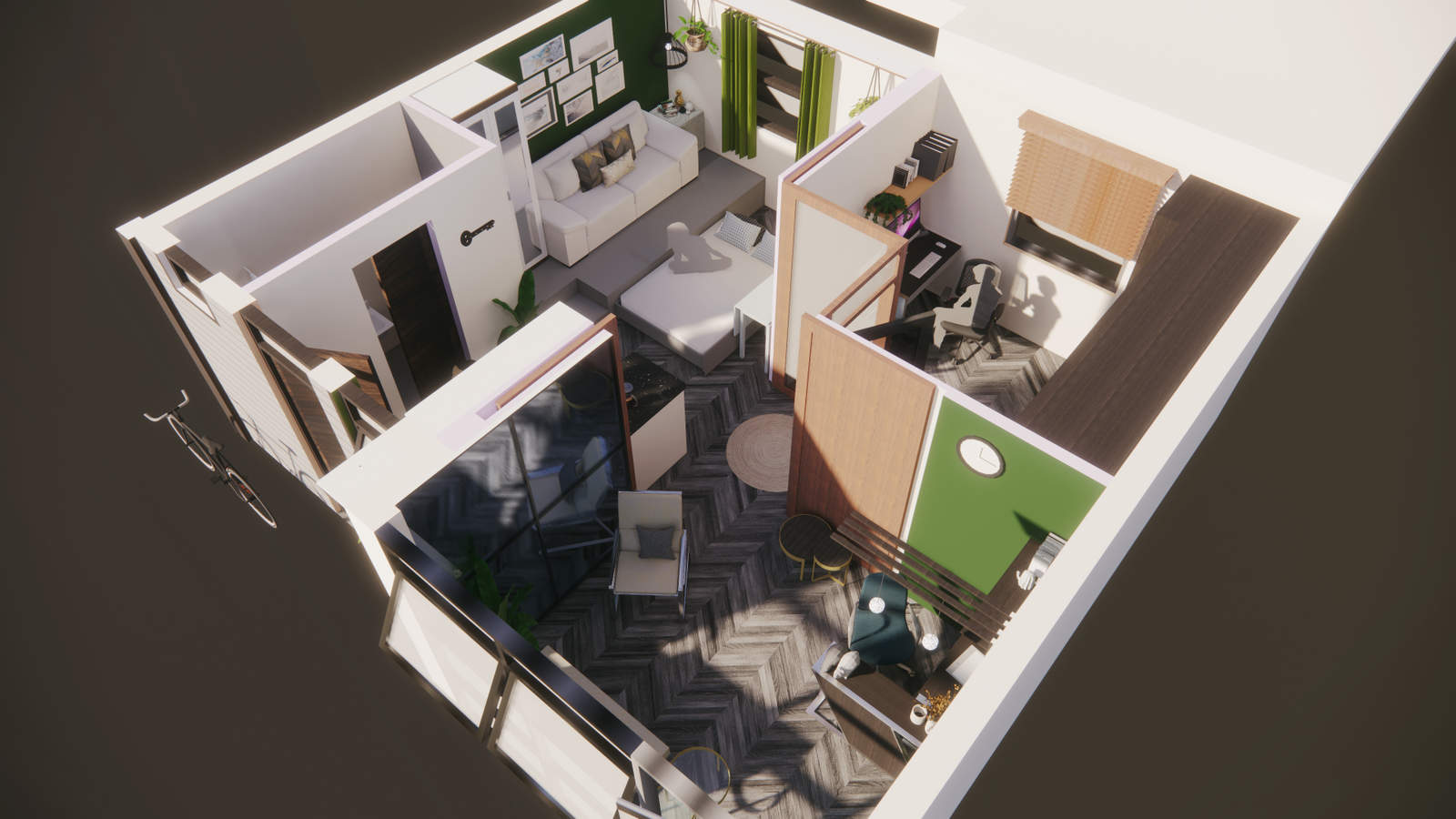 Note: This article and design study was started in early 2017. We are posting it now to address current health crisis as it is timely and relevant. Pre-COVID 19, Philippine major cities are already dense urban jungles with hardly a breathing space for its residents. Other cities are not far behind too. Travelling, ie: commuting or driving takes up almost a fourth of your daytime. In Metro Manila alone, traffic jams and a heavily-burdened transport system delay a person for hours on end going to work, causing missed appointments, never-ending frustration and frazzled nerves. Triple these transport and mobility problems now during a global pandemic. As 'designers of space', aside from looking at the macro perspective of urban planning, we also like to zoom in on how we can encourage working where you live or living near where you work. Utilizing available technology like video-calls, smart Apps and online tools, people may be delighted how the work-life integration is made possible. Here we play around a finite area of space and how a modular yet mindful design can fit a surprising number of functions and people…
A young entrepreneur wants to set up an office for her small business. Unfortunately, she doesn't have the budget to pay for additional rental fees or monthly mortgage.
A freelance artist is looking for a studio that will inspire him creatively; but the commute to the nearest available space is too long and stressful.
A corporate employee has to work at home due to the Covid-19 pandemic. However, the current setup of his apartment disrupts his productivity.
These three individuals face a common issue: finding the right location for their workplace. Anyone who is making a livelihood might have also encountered a similar experience. With the boost of technology and online connectivity, added with the onslaught of the pandemic, remote working has become the 'new normal'. Yet, many people around the world still find themselves struggling to find a suitable work location. Fortunately, there is one solution that has been a growing trend to help people deal with this problem.
It is called live-work. As defined by Urban Spaces UK, it is a term used to describe properties whose space is designed to incorporate one's professional and personal lives. What this does is it merges the workspace and living quarters, allowing people to utilize where they live for occupational affairs and business ventures. Why spend on office rentals or long commutes when you can set up your own workplace at the comforts of your home? Commercial spaces in the ground floor level can accommodate a daycare, laundry shop, cafe repair shop or other neighborhood facilities.
Now, how is it done and how does it benefit not just an individual, but the society as a whole? Let's look at this 45 square-meter live-work unit set in a low-rise apartment complex.
As per Katz and Buchinska (2020), the key to creating an effective live-work space is by establishing clearly defined areas that keep work and home life close, but independent from each other. Working close to home is advantageous in cutting commute time, reducing costs, customizing the work environment, contributing to sustainability, and improving work-life balance. However, failing to draw a line in between these two aspects may be detrimental to mental health.
As such, the core of this unit is a portal that slides open and shut. It separates the 'home' and 'work' zones, as well as allows you to decide how expansive or intimate you want your space to be. With limited floor area, flexibility is fundamental. Every inch of space should be optimized for multifunctional use. Here, we used innovative storage, transformable furniture, sliding panels, and division of vertical space to create a modular yet mindful design that can fit a surprising number of functions and people.
When living here, think of going through different Settings or Modes throughout the day:
Wake up, make breakfast and have coffee or tea.
Tidy up the space, shower and put game face on.
Slide the portal door and 'go to work' in your private office. Check emails, make phone calls.
Open the public receiving area as your office starts the day.
Conduct your business with your private quarters completely tucked away from view.
Have a cocktail hour after office hours (now with masks and serving only smoothies and juices at 2.0m apart!
Say good-bye to staff; lock up the reception area for the day.
Do your own thing in the office, while your partner prepares and cooks dinner.
'Go home' as you step back through the portal and spend time cooking, watching TV or lounging on the couch with a book or a musical instrument.
Wind down for the day; pull out the queen-sized trundle bed that is under the platform. Call it a night.
Stretching it even further, this unit can accommodate a baby, a toddler, or a teenager. Perhaps as a starter place for a couple of years. It's just a matter of identifying what you need and prefer. This whole unit can be an empty, open-plan and as cavernous space as you want it! Small spaces do not necessarily mean cramped, dark and dinghy. It can be light, comfortable and most importantly, energy and cost-saving! Plus, it is fun to design tiny spaces as you can see a whole lot of creative ideas squeezed out by letting your imagination run free.

Now, imagine a community filled with live-work properties. Visualize a place with zero commute, less energy consumption, and decreased urban sprawl. "No homes that remain vacant all day and offices that remain vacant all night", as stated by Thomas Dolan. Some people may argue that this type of space will isolate human beings from each other. But by building a live-work community equipped with complete amenities, close transport links, interactive facilities, and common circulation areas, working relationships may develop and flourish naturally. How convenient would it be to be able to network or market together with other business owners and professionals?
Live-work spaces can be for a select set of people, an individual or a couple, and is dependent on the nature of their business or job. But this may be one way our local city planners can help the people work around the current health emergency.

The concept of live-work spaces isn't a novel one. It has existed in a multitude of forms for thousands of years until the industrial revolution urged people to work in factories. With the rise of information technology, it is coming back again as the population of home-based workers grows. The Covid-19 pandemic has also further promoted this lifestyle.
In fact, recent studies have predicted that the workforce may look different post-pandemic, with remote-working continuing on for much longer than we think. As we re-evaluate space planning and design during this global health emergency, it is time that we also consider further cost-effective mixed use developments with more live-work options for the benefit of the community.